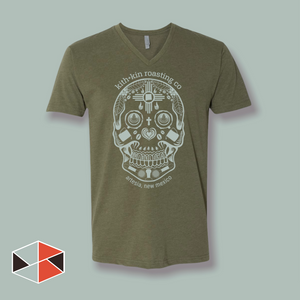 CHECK OUT THIS CUSTOM DESIGNED, ONE-OF-A-KIND SUGAR SKULL FEATURING ALL THE TOOLS OF THE TRADE.

This is our coffee spin on the traditional sugar skull. This custom design was painstakingly made and features a Zia symbol, coffee branches, drops of coffee, latte art eye and nose, steaming pitchers, portafilters, a tamper and drink local on the teeth. The color of the shirt is olive with a light blue print. We love the creativity of this design and know you will too! Especially since you can't find this shirt ANYWHERE else, only at Kith+Kin.
These shirts are SUPER SOFT and cut to fit. No big, bulky, boxy shirts. As with all of them, we only buy good quality shirts.